Authentic leather "Harness Belts" handmade in the heart of the Bluegrass: Carefully cut, crafted, and hand-rubbed to the highest levels of craftsmanship.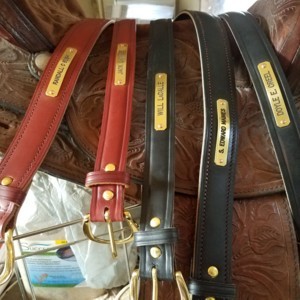 Welcome to the day job". We cut our belts from select bridle leather hides and use only solid brass buckles and plates. The buckle is attached with brass Chicago screws for easy replacement. We hand rub the edges and seal them to a smooth finish. We are proud of the leather we use and do not hide its quality behind dyed edges.
The heavy, beautiful leather makes this the perfect belt for dress, but is durable enough to wear every day.
Available in 3/4″, 1″, 1-1/4″, and 1-1/2″ widths.
Available in either a classic, simple creased edge or in our popular, stylish stitched edge. The stitching is done in a contrasting brown thread.
Simple sizing (just order your actual pants waist size) makes ordering easy, and if your belt does not fit simply return it to us, pay a shipping charge, and get a free replacement.
Since our belts are PERSONALIZED and custom made to order, they may be exchanged for sizing (shipping payment required), but are otherwise NON-RETURNABLE.
WORD TO THE WISE: The more print you ask us to put on the plate, the smaller the letters. We suggest no more than 20 letters and spaces MAXIMUM for a good result.
Need more information about sizing, colors or returns?
---
1 1/2 inch wide…Creased Style
mens work
$40.00 each
#06-2003
---
 1 1/4 inch wide…Creased Style
mens dress and casual
$35.00 each
#06-2002
---
 1 inch wide…Creased Style
ladies casual/mens dress
$30.00 each
#06-2001
---
3/4″ wide…Creased Style
children/ladies dress
$28.00 each
#06-2000
---
1 1/2″ wide…Stitched Style
mens work
$45.00 each
#06-2013
---
1 1/4 wide…Stitched Style
mens dress and casual
$40.00 each
#06-2012
---
1″ wide…Stitched Style
ladies casual/mens dress
$35.00 each
#06-2011
---
3/4″ wide…Stitched Style
Children/ladies dress
$33.00 each
#06-2010
---
Please allow 2 weeks for delivery.
Continental United States only. Shipping charges are $8.50 per Gift Shop combined order unless otherwise specified.