Wes Forsythe
Wes Forsythe, "The Voice of The Scarefest", is your host for Scarefest Radio. A veteran internet broadcaster, his past work includes the long running and widely syndicated Paranormal Filler, LiveParanormal's The Paranormal iCon, and Vidi Space's Gone Off Topic. He started Scarefest Radio in 2015 and has guided it into the growing video feature that it is today. We warn you: You never know what is going to come out of his mouth.
Brandon Griffith
Brandon Griffith is the co-owner of The Scarefest along with his wife Nicole. Brandon, a lifelong horror fan, shares Wes' vision for making Scarefest Radio more than it was and has been instrumental in moving it to the new levels it knows today. He is our co-host for horror celebrity episodes and also comes on just to talk industry news. Mostly he got the job because he pays our bills.
Ken Boggle
Ken Boggle is our designated spirituality and pop-culture co-host. He is a professional tarot card reader and the former host of The Ken Boggle Show. He also currently has a series on the Vidi Space network:  Tarot Date with Ken Boggle. He still finds us amusing, so he is sticking around.
Chris Sutton
Coyote Chris Sutton is our go-to ghostology co-host. Chris is the former host of the podcast All Things Spiritual and Supernatural. He has even appeared on real television a couple of times on  Dead Files Revisited, Ghost Lab and most recently on Ghost Adventures. He currently has a Vidi Space Network show also: On Sacred Grounds. His main function on air here appears to be to give Wes a difficult time though.
Jason Boyd
Jason Boyd is a long standing volunteer in The Scarefest organization and has now joined Scarefest Radio as a recurring co-host for horror celebrity episodes. He is an avid horror fan, trivia buff, and collector. We also felt we needed a more stable beard.
Billy Crank
Billy Crank is our "random-backup host". Billy is a actor and comedian who has appeared in various television commercials, radio programs and podcasts, and short films. He is also the only person here who is consistently "likable".
Holly LaFavers
Holly may be unfamiliar to many of you, but that would only be because you've not been paying attention. She has attended every Scarefest since the beginning. Holly will be our back up on celebrity and pop-culture interviews, but her main focus will be convention reporting. She attends many horror and comicon expos throughout the year and will be our on-site reporter. Also we needed a strong injection of estrogen into the lineup.
Chad Harlan
Chad is the latest addition to our paranormal host team. Chad is an paranormal investigator, researcher, and lecturer. He has attended Scarefest since the beginning and made the mistake of recently saying that he wanted to help.
Anita Forsythe
Anita is the producer for Scarefest Radio. Monitoring the chat rooms and clicking between cameras and commercials, she is the occasional phantom pajama clad elbow seen on the studio camera. She is also our designated "hugger".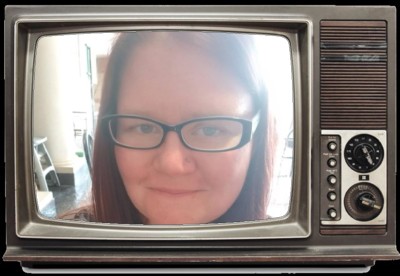 Merrideth Blackwell
Merrideth has joined the team as a copywriter and contributor. Her love of horror, paranormal and Scifi made her a longtime fan of Scarefest and led her to volunteer first in the seminar area. In her day job, she fabricates dental prosthetics and one day would love to be in special effects makeup. Our immediate plans for her are to work her until she screams. 
Brian Stidham
Brian has been a horror fan since the early 80's after binge watching a double feature of Halloween and Phantasm followed by not sleeping for 2 days. To balance the mundane side of his life, horror podcasts have become his vice of choice so being a copywriter and contributor to Scarefest Radio is a perfect fit . He has also worked in one of the most terrifying places on earth, a state tax office.
Amber Truax and Layla Cook
These ladies need no introduction to most Scarefest fans. Amber is our booking manager for the show's paranormal guests and Layla is in charge of celebrity booking. Amber, being the volunteer director for The Scarefest will also be handling "staph" management for support positions needed for Scarefest Radio. Layla is Wes' karma for something he did in a previous life.
---