Wes Forsythe
The well-known host of Paranormal Filler has been coming to The Scarefest almost as long as there has been a Scarefest. He now brings his unabashed "attention whore" personality to this show built around the famous convention.
With a background in paranormal research (and farming…not that it is pertinent to this discussion), Wes has been hosting his own weekly syndicated internet radio show about that topic (paranormal…not farming) for several years. Along the way he has hosted other shows and specials concentrating on the related conventions and their guests. In 2015 he added the original Scarefest Radio recurring segment to his weekly Paranormal iCon show. Recognizing that the segment had too much potential and available content to be lost in the existing mix, he launched Scarefest Radio in 2016 as an independent weekly show to showcase the stars, speakers, vendors, and people behind the scenes of the event.
With the iCon project retired, Wes still travels the country appearing at paracons and haunted events for Paranormal Filler. Through the events he is able to meet and network with those that share his passion for the unknown. Plus he figures that is the only way he can coerce people into taking his autograph.
Ken Boggle
The host of The Ken Boggle Show was born Kenneth Ray Hughes, Jr. in rural (as opposed to metropolitan) Southeastern Kentucky. By the age of 8 his Grandmother (that was his age…not hers) taught him to read coffee grounds, and his Aunt (still his age) taught him to read fortunes with a pack of Poker cards. Throughout his adult life, Ken worked in restaurants, salons, and spas. And while financially successful (despite surviving grounds in his coffee and his aunt's apparent gambling addiction) Ken did not feel he was living true to his talents.
Then one day, Patti Starr, of  The ScareFest, offered Ken a Tarot deck. "Learn these," Patti urged. "You will be great with these." After one and a half years of studying the Tarot, learning and creating his own spreads, Ken developed his own approach to the Tarot.
Now Ken has opened Tarot By Ken, LLC. and is reading the Tarot for people all over the world – many of whom often say that readings with Ken have changed their lives. The rest are still hung up on why he had coffee grounds to read after 1974.
While Ken has had great success in his predictions and forecasting, his personal goal is to bring his clients to their ultimate happiness. On Scarefest Radio he says his goal is to not do a "shitty job".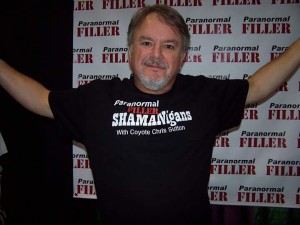 Chris Sutton
Coyote Chris Sutton was born into a small litter in Southwestern Illinois where he still maintains his den with Mrs. Coyote and two grown pups who won't leave. Chris led a normal life until Spirit came crashing into his life and put him on a path where he learned shamanism, divination, and other mystic arts with the purpose of saving humanity one person at a time (Ok, that goal is a bit lofty, but he does help people find their true path in life and and bring light in the darkness in their lives – including the things that go bump in the night). Chris learned from a lot of good, experienced people and has been at it for over 20 years. He was blessed to smoke Sitting Bull's actual ceremonial pipe on one occasion. This was a high point in Chris' spiritual life (a close second is the time he was a guest on Wes' show while actually being in the Paranormal Filler studio at the time).
Chris is the former host of All Things Spiritual and Supernatural on the Incubi Incarnate Broadcast Network. He has even appeared on television twice: "Dead Files Revisited: Evil Underground and Killed by the Klan", and "Ghost Lab: If Walls Could Talk". In his home area he does spiritual events, paranormal investigations, and leads tours at the famously haunted McPike Mansion. Chris will go anywhere if you can get him there and give him a place to lay his head if he has to stay overnight.
Chris presented at The Scarefest in 2013 and 2014, and in 2015 he was a lackey in the Paranormal Filler booth while Wes looked for buxom women to have pictures taken with.
Layla Cook
Layla "Not This Friday" Cook is the operations director and resident perkiness ambassador for The Scarefest.
She began working with Scarefest in 2014, but had been the professional assistant for Scarefest owners Chuck and Patti Starr for several years prior. As neither has done "hard time" to date, she has been allowed to continue managing several administrative areas of the Starr's other businesses, plus the role of booking agent for Patti.
Layla came to Scarefest soon after leaving her long time position in accounting at the University of Kentucky (which is much harder than it sounds as you are only allow to use BLUE ink). She's also a life long assemblage artist and certified intuitive counselor.  She manages Patti's Starr's monthly Mystical Paranormal Fair where she takes Sunday consultation appointments once a month.
Her life long passion is her artwork and sharing art and creation with others.  She leads monthly workshops at The Collectors Gallery that are hands on and we are told (by Layla) lots of fun!  Her main project is Faerie Homes & Gardens, with workshops such as DIY Gourd Faerie Houses, Broken Pots Faerie Gardens and Holiday DIY Ornaments that vary by season.
She says the most fulfilling aspects of her position at Scarefest are being able to be creative with entertainment, fan relations, and special events. (Editor's note: I notice that she did not mention Scarefest radio).
A life-long resident of Lexington, KY, Layla is very active in many social and nonprofit causes including the research and funding for Chronic Kidney Disease and Medullary Sponge Kidney.  She is an MSK Patient and despite a strict daily management of her condition she manages to pursue all of these projects that make her life full and helps her to assist others!
Clint Narramore
Clint has lived in 10 States over the last 17 years and we know what you're thinking….Witness Protection!  Well actually, Clint is a former Marine turned stand-up comic, turned radio DJ.  He fell in love with horror films when he was 4 and has since traveled the country, going to different cons and living the horror fan dream.
Clint discovered early on he wanted to be in broadcasting and knew he would take the road less traveled to get to that goal.  Having no money for college, he joined the Marines right after high school and began going all over the States and the World.  After 5 years of service, Clint began a short career in professional wrestling (mostly as a referee).  He then took all of the skills he had learned (editor's note: and we all know how important blowing things up and wrestling skills are in radio) and went to broadcast school to begin a career in radio.  He has worked for 5 radio stations across the country and has some great road trip stories.  He has interviewed over 100 singers, actors and athletes and loves the industry.
When Clint is not hosting a show or helping co-host Scarefest Radio, he is an avid sports fan.  He grew up in Cleveland and cheers for and a lot of the times, yells at the Browns, Indians, Cavs and Ohio State.
Billy Crank
Billy Crank is a actor and comedian from Burgin Kentucky who has appeared in various television commercials, radio programs and podcasts, short films, as well as promoting kids charities.
He is a regular guest at various conventions and festivals throughout Kentucky. Billy has become a familiar face with a strong and endearing allegiance of  fans.
He not only is our "fill-in" co-host of ScareFest Radio but also co-hosts the Sound of Lexington which promotes Kentucky bands and artists.
Lately he is on six networks on the East coast  doing commercials on as spokesman for Dominion Raceway & Entertainment.