The Tomb Attendant is Wes Forsythe's homage to The Crypt Keeper. Not having any discernible talent in this area, he neither sounds nor looks anything like the iconic character.
The voice preceded the character by months. The Week In Horror History was originally a short slide show covering just about anything horror related. Once the voice was finalized and added to the segment, it did not seem appropriate for True Horror stories so those were dropped and eventually spun off into their own segment.
The character itself was born later in 2020. Wes was scheduled to work at Scarefest Cybercon virtual convention in August. Wanting to do a little cosplay throughout the day, he decided it was time that The Tomb Attendant would get a face to go along with the voice. He chose skull makeup because he always thought it looked cool.
While that did not come to fruition due to the hectic schedule of the day, he had another chance at The Central Kentucky Mystical Market to represent The Scarefest and Scarefest TV at their grand reopening in October. He was fortunate that mask wearing was in effect for the weekend: The mask covered up the awful makeup job he rushed into using Dollar General Halloween makeup.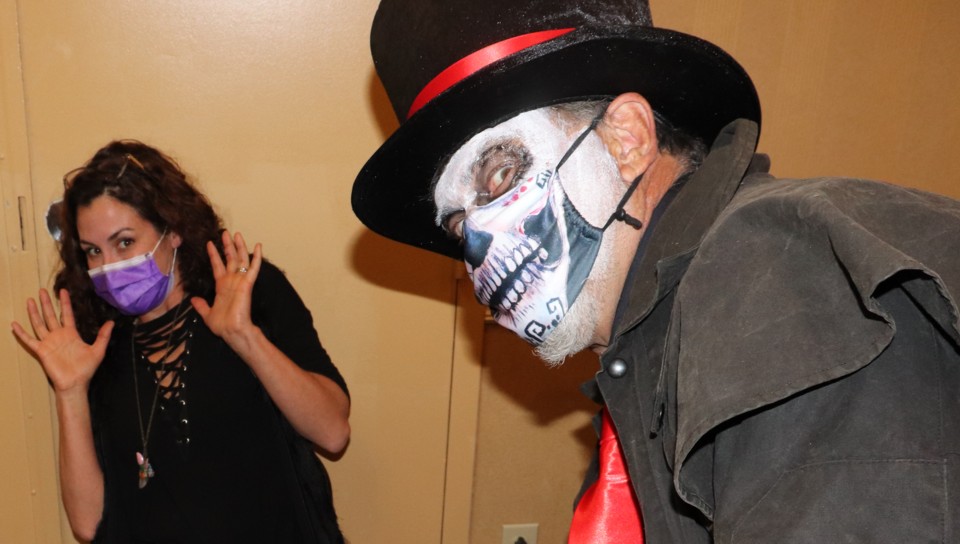 The Week In Horror History now concentrates on iconic movies released around the date of the particular Scarefest Television episode in which it appears. The segment is written by long time contributor Merideth Blackwell who also writes many of our episode summaries.
The Tomb Attendant is available to attend public events on behalf of The Scarefest at no charge beyond travel expenses, lodging, and booth space.