When Wes hosted his old podcast, Paranormal Filler, he frequently did news segments featuring odd news from around the world with co-host Lesia Miller Schnur which even carried over to Scarefest Radio for a while. Unfortunately, finding and reporting weird news has been in the back of his mind the entire time.
He has relaunched Breaking The News on Scarefest TV as a limited segment. There is still the problem of source aggregation while avoiding plagiarism since we don't exactly have a news department. Hopefully this will be a project we can devote more time to in the near future.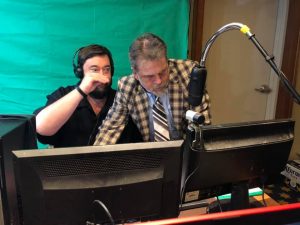 To present the segment, Wes reached deep down into his soul and came up with ace reporter Cliff Stone. Cliff is a throwback to what we used to think reporters should be, and is a direct tribute to Will Ferrell's  Ron Burgundy character.
He is voice talent. If he thinks he gets in trouble. He dresses for success if you want success in the 1970's.
Cliff Stone is available to attend public events on behalf of The Scarefest at no charge beyond travel expenses, lodging, and booth space. He is also available for voice over work.